A Behind the Scenes Peek at a Day in ESP's Grand Slam Summer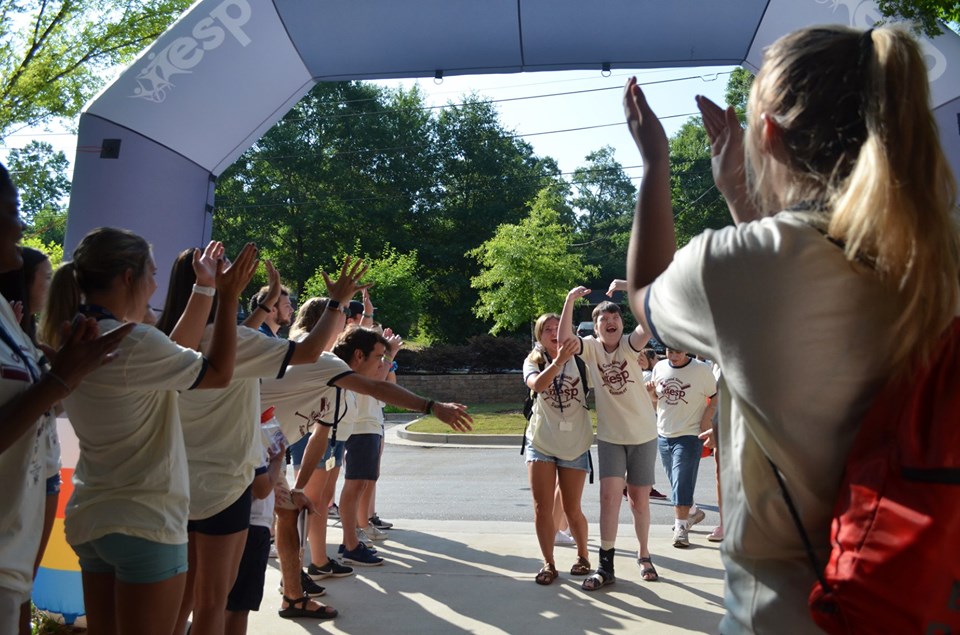 The fun starts at around 9 am. As campers hop out of their car, a massive welcoming party awaits them-what we call welcome wagon. The welcome wagon lets our campers know we are excited they are here and gives our day at camp an energetic and joyful start.
After welcome wagon, campers hang out in their assigned unit rooms until…FFFLLLAAAAGGG. Flag is an essential part of ESP's morning ritual. It's a time where every member of the ESP family gets together to start their day with singing, dancing and celebrating our campers. At flag, brags are given out that spotlight participant's accomplishments throughout the week. Each individual receiving a brag gets to come into the middle of the circle as the entire group chants their name to receive their brag.
After flag, the units spend the morning rotating through activity stations hosted by the unit leaders and specialty directors. In each unit, campers create a craft specific to the nickname of their unit. For the royals, that meant crowns only suitable for the young kings and queens. The Astros created their very own UFOs! The Vikings learned about volcanoes, and then got to create their very own!!
At the music with maestro David, we host our very own ESP Idol! Campers karaoked to their favorite song in front of our panel of judges. Their friends were there to watch and cheer them on. Campers could also choose charades. They got to act out their animal while their team tried to guess which one they were.
After all this crafting and performing, ESPers work up an appetite and head to the kitchen to bake some cookies! Each group divides so every camper learns to pour, mix and work together to bake their batch of cookies. Who doesn't love an activity that you can eat at the end?
After the sugar rush, campers head outside to work off their cookies with T-ball. We have to play some baseball; it is the Grand Slam Summer, after all. From cooking, yoga and golf ESP day camp features activities for all interests and talents. With so much going on, there's a good chance our campers will pick up a new hobby!
Our vocational unit is a little different. During this time, they head out into the community. The focus is life skills and job training (with a lot of fun thrown in the mix. During our first week, the vocational campers went berry picking. When they got back they turned those berries into delicious desserts. Vocational also tried yoga and had a visit to the fire station. No matter the unit mornings at ESP day camp allows all of our campers to be active, work on their social skills and just have fun with their friends and leaders around them.
Campers and staff squeeze in a quick lunch with their unit and then head to either the pool or the bowling alley for the afternoon! At UGA's Legion Pool, campers cool off, get some sun and splash around with their friends. Bowling provides some healthy competition between campers. Getting to bowl more than one day during the week also allows campers to get the hang of bowling. Our campers were bowling strikes like pros by the end of the week!!
Then Friday comes and has a magic all its own. For the Friday morning flag, community members are welcomed into Flag. At our themed photo booth each Fun Friday, you can pose for a cute picture as well as check in to our Facebook event and receive a free cup of Java Joy coffee. Java Joy will greet you with hugs, joy and your cup of joe and then you can check out our silent auction items.
Throughout the week, each unit works together to create an item for the silent auction that are then displayed during our ESP Friend Friday. Friday afternoon comes and with it a Fun Friday activity planned by our Americorp team. At Fun Fridays everybody tends to get messy, sweaty and go all out to end our week of camp with enough joy to hold campers over until their next time at ESP!
Stations are amazing and Fun Friday activities get everyone excited to be at camp! However, the most important part of day camp is that the participants get to engage in different activities, connect with their buddy and thrive in their community.
To experience the magic of day camp yourself, join us for Friend Friday! Friend Friday happens Friday mornings of day camp. Friend Friday invites you to come be a part of Flag, grab some Java Joy coffee and check out our silent auction crafts created by campers throughout the week! For more information about Friend Friday, click here.